Report of the twenty-ninth session of the Caribbean Development and Cooperation Committee of the Economic Commission for Latin America and the Caribbean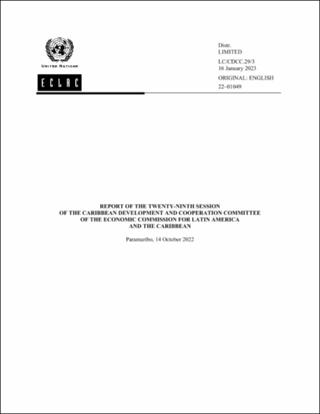 Report of the twenty-ninth session of the Caribbean Development and Cooperation Committee of the Economic Commission for Latin America and the Caribbean
Physical Description:
40 páginas.
Editorial:
ECLAC, Subregional Headquarters for the Caribbean
Date:
January 2023
ECLAC symbol:
LC/CDCC.29/3
Table of contents
Decisions and recommendations. -- Attendance and organization of work. -- Summary of proceedings. -- Resolutions adopted by the Caribbean Development and Cooperation Committee at its Twenty-Ninth Session. -- Annex I List of participants. -- Annex II List of documents.