The Hummingbird Vol.7 No.4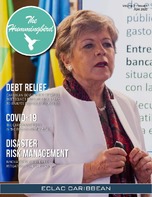 The Hummingbird Vol.7 No.4
Physical Description:
26 páginas.
Editorial:
ECLAC, Subregional Headquarters for the Caribbean
Date:
April 2020
Table of contents
Economic impact of COVID-19 in the Caribbean. -- Caribbean Heads of State and Finance Ministers meet ECLAC's Executive Secretary, Alicia Bárcena. -- COVID-19: Caribbean Update. -- The government of Jamaica is building shelters for battered women -- Innovation in Disaster Risk Mitigation in the Caribbean. -- Sustainable ocean management in the Caribbean. -- State of Affairs.