The Hummingbird Vol.6 No.10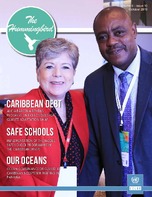 The Hummingbird Vol.6 No.10
Physical Description:
24 p.
Editorial:
ECLAC, Subregional Headquarters for the Caribbean
Date:
October 2019
Table of contents
Caribbean joins Latin America in signing and ratifying the Escazú Agreement. -- Alicia Bárcena reviews progress on ECLAC's Debt for Climate Adaptation Swap. -- Implementing the Model Safe School Programme. -- Ocean governance discussed at Caribbean Ecosystem meeting in Panama. -- ECLAC identifies growth challenges and policy missteps at UWI conference. -- ECLAC Caribbean Family : Advocating for Advocating for equality and nondiscrimination for LGBTQI+ Issues.