Modern global trade in services is highly dynamic
While the value of world trade in goods increased by just 2.4% per year on average between 2010 and 2019, the annual rate of trade growth was 4.2% for traditional services (mainly tourism and transport) and 6.2% for modern services, according to data from the World Trade Organization (WTO)..
Within the modern services category, global trade in computer services grew 9.1% annually, while cross-border data flows —which could be indicative of trade trends in some new, as yet little measured categories of digital services, such as social networking— posted annual expansion of over 40%.
The fast growth in modern services trade is mainly due to the fact that increasing digitalization has enabled the cross-border provision of a growing range of services (business, legal, financial, educational, among others). In fact, modern services were the only category of global trade that did not decline in value in 2020 amid the COVID-19 pandemic, and they facilitated the continuation of activities such as education, medicine and teleworking.
Thus, in 2021, modern services accounted for 63% of global services exports, a jump of 10 percentage points from their pre-pandemic share in 2019. In June 2022, the WTO Services Trade Barometer confirmed that trade in modern services continued to expand into the first quarter of this year.
The region still has only a marginal share in modern services trade
The region accounted for less than 2% of global exports of modern services in 2021 (see figure 1). This weak performance contrasts with the strong specialization of the region's countries in tourism (in the Caribbean, Central America and Mexico) or transportation (for example, in Chile and Panama).
Other factors influencing this performance are a limited supply of specialized professionals and technicians, a lack of strong commitment to modern services in some regional integration agreements, and deficiencies in long-term policies and public-private coordination to promote the sector.
Figure 1
Latin America and the Caribbean: share of global services exports by category, 2010–2021
(percentages)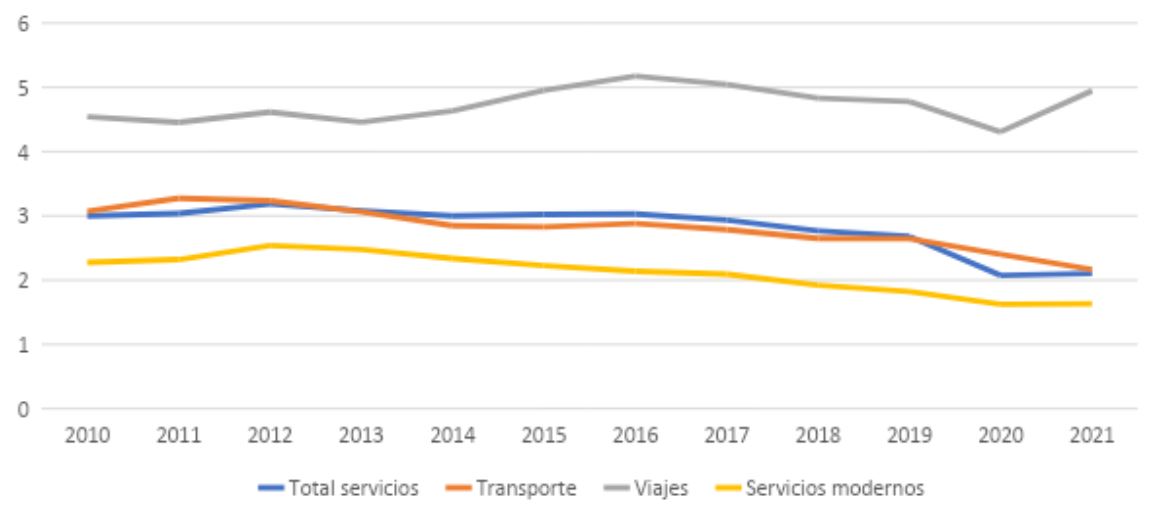 Source: Economic Commission for Latin America and the Caribbean (ECLAC), on the basis of World Trade Organization,
WTO Stats portal
.
Despite this performance, regional exports of modern services could accelerate in the post-pandemic period. Regional export growth has been confirmed for the first quarter of 2022, based on CEPALSTAT data. Trade in modern services is also being promoted by subregional integration schemes (Pacific Alliance, Andean Community and MERCOSUR), as discussed in two LAIA and ECLAC webinars held on 14 September and 4 October.
The Eighth Ministerial Conference on the Information Society in Latin America and the Caribbean, organized by ECLAC on 16–18 November, along with its new digital agenda for 2022–2024, could also contribute to this momentum.
The eleventh REDLAS Conference in Lima will help boost exports of modern services
These matters will be analysed at the eleventh conference of the Latin American and Caribbean Network of Researchers and Policy Makers around Services (REDLAS), which will address "Creative and Modern Services for Trade and Sustainable Development". This conference will be held in conjunction with the Peru Service Summit on 14 and 15 November in Lima, Peru.
More than 20 papers will be presented at the REDLAS conference —coordinated by ECLAC and supported by the regional programme Alliances for Democracy and Development with Latin America (ADELA) of the Konrad Adenauer Foundation (KAS). They focus on the following topics: opportunities for exports of creative and cultural services; incorporating environmental and social factors into services exports; new businesses: opportunities and experiences; and learning for the development of creative services.