The United States organic food market has shown impressive growth in the past 20 years, with sales rising from one billion dollars in 1990 to 31.5 billion dollars in 2011. Even shortly after the financial crisis, from 2009 to 2010, the growth in sales was 7.7 percent according to the Organic Trade Association. In 2012 the United States Department of Agriculture (USDA) estimated the size of the organic market in the United States to 31.4 billion dollars.
The rapid increase in consumer demand for organic products exceeded the domestic supply capacity and traders of organic products have relied significantly on imports to meet the increasing demand. This presents an interesting trade potential and an excellent opportunity to diversify exports for Latin American and Caribbean farmers. Access to the United States organic market requires meeting the specific standards, regulations and rules of certification determined by the USDA througth the National Organic Program.
The introduction of organic product codes into the Harmonized Tariff Schedule (HTS) in 2011, enabled the United States International Trade Commission to track some of its organic exports and collect information on selected organic imports. At the moment, only 23 product codes exist for organic products making the statistics somewhat limited for this sector. The data still provides an indication of the trends of import volumes and values of certified organic consumption commodities.
The existing data highlights the role of Latin America and the Caribbean in satisfying the United States demand for certified organic products. Two thirds of the HTS coded organic import commodities were supplied by the region in 2011, amounting to 430,875,000 dollars.
Regional Shares of United States Organic Imports with HTS Codes, 2011a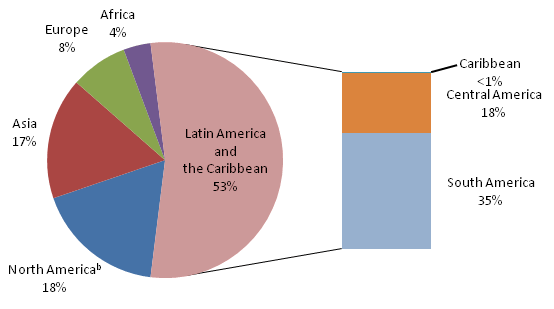 Source: On the basis of USDA Foreign Agricultural Service, 2013.
a Variables used: Trade area or partners of origin: world regions; Period: January - December; Imported consumption commodities: total organics - selected (includes certified organics as per HTS in 2011).
b "North America" includes Canada and Mexico.
In 2011, seven of the top 10 exporters of HTS coded certified organic commodities to the United States were from Latin America and the Caribbean. In 2012, as the value of coffee imports decreased, coffee exporters from Colombia, Costa Rica, and Honduras were substituted by Chinese and Indian organic soybean exporters, and Thailand and Ethiopia moved up into the top ten.
A report prepared by ECLAC Office in Washington D.C. provides an overview of the current regulatory framework of the United Sates organic food market and presents a brief glance at the state of organic agriculture across Latin America and the Caribbean, suggesting areas were exports to the United States could increase. Overarching practical issues such as labeling requiremets and certification process specifications are addressed.
Read the complete report here https://www.cepal.org/en/publications/5066-organic-food-market-united-states-market-access-opportunities-latin-american-and