ECLAC's participation in the "Webinar on Water, gender and climate in Latin America and the Caribbean: better data for better adaptation strategies"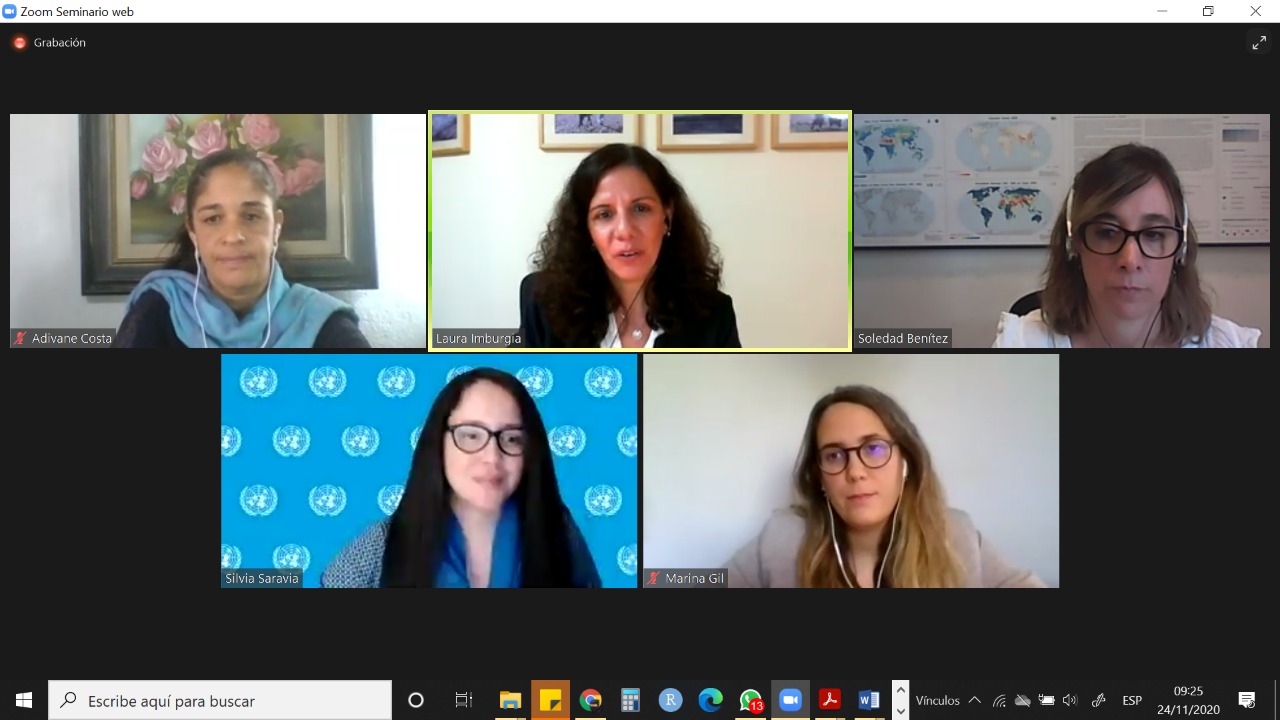 Webinar "Water, gender and climate in Latin America and the Caribbean
On November 24, 2020, the Webinar entitled "Water, gender and climate in Latin America and the Caribbean: better data for better adaptation strategies" was held. During the event, an analysis of regional policies on the subject, regional experiences of women in water management and a proposal for water and gender indicators was presented.
Silvia Saravia Matus and Marina Gil Sevilla from the Water and Energy Unit of the Natural Resources Division of ECLAC emphasized that both water scarcity and the effects of climate change affect women in Latin America and the Caribbean in a particular way. This is mainly reflected in the repercussions in terms of the use of their time; and rural women are mainly affected.
In LAC, 35% of the population does not have access to safe water (located in the home, available when required and free from contamination), 31% of the population accesses an improved source accessible 30 minutes away from their place of residence and 4% has access to limited services; that is, more than 30 minutes away. The closing of gaps in this respect has occurred in recent decades mainly in the urban context, while sources of clean water and improved sanitation are still difficult to access in rural and peri-urban areas. Thus, in rural areas, people who did not have access to running water at home have decreased from 63% to 32% in LAC, while in urban areas from 12% to 6% between 1990 and 2015.
The responsibilities for collecting water fall mainly on women, given their relationship with household tasks. For example, in Paraguay, 68.7% of women in urban areas are responsible for collecting water, 54.2% in El Salvador, and 53.7% in Panama. In Cochabamba, Bolivia, women are much more likely than men to spend time searching for available water vendors.
During the presentation, it was also emphasized that the gender perspective in water management in the region is a key issue that should not be lacking in planning processes, be it of coverage infrastructure or productive uses of water. The low female participation in consultation, design and operation processes related to water management was particularly highlighted. For example, in Central America, water management, both surface and underground, is carried out through user associations, water boards or water committees at municipal level. It has been recorded that around 1,120 people are involved in such local governance, but of this number only 27% are women. In addition to participation in local governance, it was advocated that greater female participation in institutions and organizations at the national and regional levels is needed.