1.- After a record breaking issuance of US$ 38 billion worth of bonds in January, bond issuance dried-up in February and March, bringing total quarterly issuance to US$ 45 billion. The previous record had been in January 2018 (US$ 32 billion).
MONTHLY LAC DEBT ISSUANCE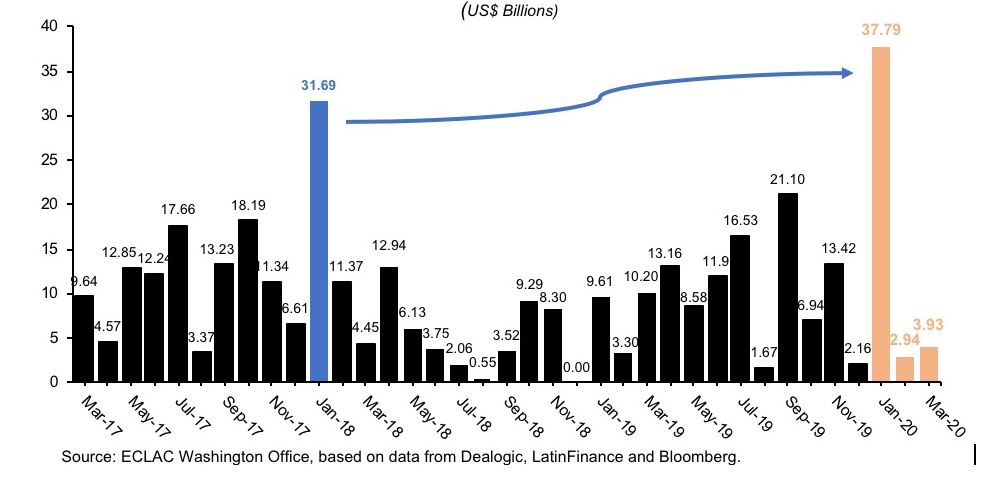 2.- On March 26, however, Panama successfully placed a sovereign bond in cross-border markets to secure additional resources to combat the COVID-19 pandemic. It was followed in April by other four sovereigns from the region – Peru, Guatemala, Mexico and Paraguay – all tapping international debt markets with sizeable issuances for coronavirus funding.
LAC SOVEREIGN DEBT ISSUANCE IN THE CROSS-BORDER MARKET, APRIL 2020

3.- There were five international green bond issuances in the first quarter and a social bond placed by Ecuador. In April, Guatemala issued US$ 500 million in social bonds to finance eligible social investments directly and indirectly related to COVID-19 prevention, containment and mitigation efforts.
LAC GREEN AND SUSTAINABILITY BOND ISSUANCE IN INTERNATIONAL MARKETS:2020 YTD
4.- LAC spreads widened 357 basis points in the first quarter as volatility and risk aversion spiked, and were at 703 basis points at the end of March, close to the peak reached in November 2008 during the global financial crisis (765 basis points).
EMBIG AND LATIN AMERICAN DAILY SPREADS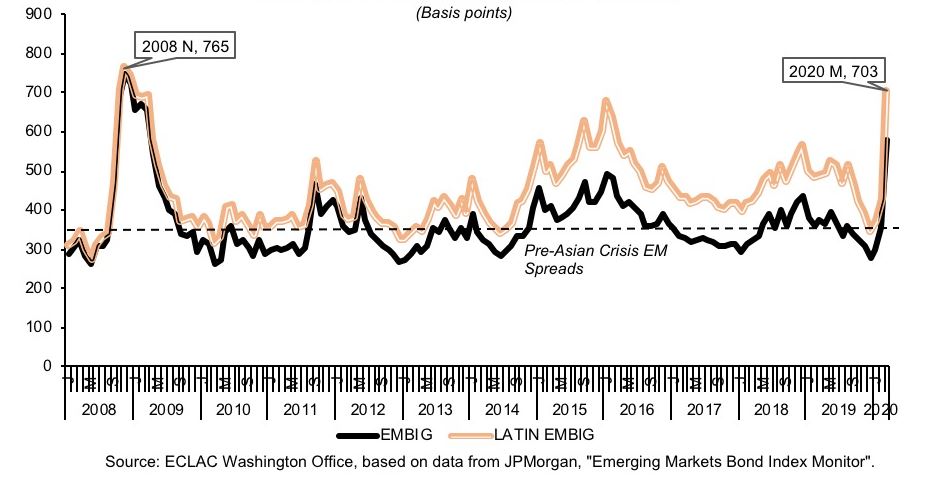 5.- There were nine more negative credit rating actions than positive in the region in the first quarter. In April alone, there were fourteen negative actions, eleven of them downgrades. All of the negative actions in April mentioned the impact of the coronavirus outbreak and of plummeting commodity prices. The commodity-exporters of the region, particularly oil-exporters, were the hardest hit by the downgrades.
NET CREDIT RATING ACTIONS IN LAC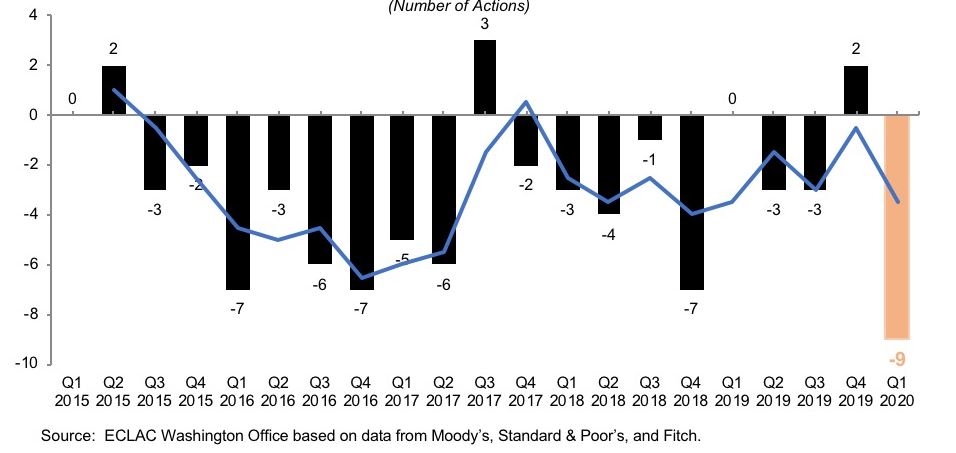 For a complete and detailed analysis see the PDF attachment with the full document.