Publications List
Showing 1 to 2 of 2 results in 1 pages.
December 2013
|
This project, "Sustainable Energy in the Caribbean", implemented by the United Nations Economic Commission for Latin America and the...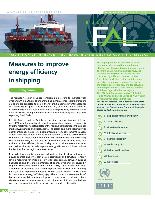 August 2013
| |
This paper provides an overview of several parameters that would improve the fuel efficiency of shipping. Calculations are carried out from a...