Publications List
Showing 1 to 2 of 2 results in 1 pages.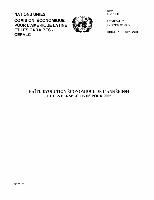 September 2005
|
1. Caractéristiques générales de l'évolution récente Les événements sociopolitiques qui ont troublé Haïti en 2004 ont eu un impact fortement...
June 2005
Le contenu de cette édition spéciale de la Revista est une sélection de plusieurs thèmes abordés dans 10 articles déjà publiés,auxquels ont été...